Dr. Paul C. Feinberg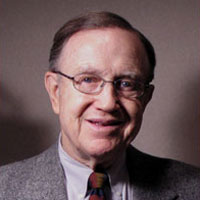 Dr. Paul C. Feinberg graduated from Northern Illinois College of Optometry in 1948, and has been practicing in Oakland County ever since. He established his practice, Mall Optical and Hearing Center, in 1962 at Summit Place Mall, where he served as President of its Merchants Association for over 20 years. He has also been actively involved on the boards of many professional, civic and charitable groups as well as serving as president of UHS School System and the Southfield Arts Council.
In his 60 plus years of practice, Dr. Feinberg had developed many innovative methods in the field of Optometry which have since become accepted standard practices, both in patient care and practice management. He became interested in the correction of vertical imbalance in the 1950's, in a very basic way. His daughter, Dr. Debby Feinberg, took the basic work and has built upon it by developing a highly specialized evaluation, examination and treatment process that is the basis for a new subspecialty of Optometry called NeuroVisual Medicine.
Dr. Paul Feinberg has followed his daughter's lead in the correction of these special patients. He helped establish Vision Specialists of Michigan, and continues to work side-by-side with his daughter to this day.