How Do You Know If You Have Binocular Vision Dysfunction?
People with Binocular Vision Dysfunction often experience a variety of symptoms that can be debilitating and reduce their quality of life. Someone with BVD might have difficulty with driving, be unable to go to work, and avoid social activities. The symptoms typically include pain, balance and coordination difficulties, reading, vision, and psychological symptoms.
Pain Symptoms: Such as face ache, eye pain, or pain with eye movement (symptoms similar to sinus problems, migraines, TMJ problems); neck ache and upper back pain due to a head tilt (similar to spinal misalignment symptoms).
Balance and Coordination Symptoms: Motion sickness, nausea, poor depth perception, unsteadiness while walking or drifting to one side while walking ("I've always been clumsy"), lack of coordination with symptoms being those seen in patients with MS, patients who have experienced a stroke, an inner ear disorder, or Meniere's Disease.
Reading Symptoms: Difficulty with concentration (symptoms are similar to those experienced with ADHD), difficulty with reading and comprehension, skipping lines while reading, losing one's place while reading, words running together while reading (symptoms similar to those seen with a learning disability).
Vision Symptoms: Blurred vision, double or overlapping vision, shadowed vision (symptoms similar to those seen in patients with MS), light sensitivity, difficulty with glare or reflection.
Psychological Symptoms: Feeling overwhelmed or anxious when in large contained spaces like malls or big box stores like Walmart, feeling overwhelmed or anxious in crowds or while driving (symptoms similar to those seen in patients with anxiety or agoraphobia).
If you have seen your primary care doctor or specialist and there still has been no cause found for your nausea and other symptoms, it could be BVD.
How Do You Get BVD?
BVD can be the result of nerve or eye muscle abnormality (a common condition many people are born with), or it can develop as a result of stroke, brain injury, concussion, or a similar neurological disorder.
How Do You Fix BVD?
BVD is treated by correcting the eye misalignment using our microprism lenses. These glasses bend light in a way that the images seen by your eyes are moved into the position they need to be in, resulting in realigned images. When the images seen by your two eyes are realigned, your brain can transform them into one, singular image. Your nausea and other uncomfortable symptoms caused by BVD are significantly reduced or eliminated.
In fact, the average patient will notice a 50% reduction of symptoms by the end of their first visit. Over the next several visits, our team at Vision Specialists of Michigan will fine-tune your lenses so that your nausea and other BVD symptoms can continue to improve and be eliminated.
Nausea in Children
Nausea not only affects adults with BVD but can affect children as well. When children regularly experience nausea, it can result in them missing school and therefore delaying their reading and learning, as well as possibly leading to a misdiagnosis of ADD or ADHD.
If your child has BVD, the symptoms will vary depending on their age.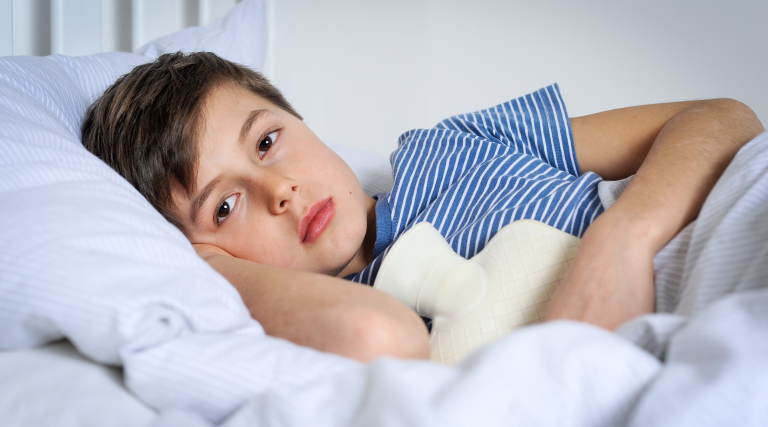 How Is BVD Diagnosed?
To determine if your nausea is the result of Binocular Vision Dysfunction, we suggest you first see your primary care physician or specialist to rule out other causes. If no cause is found for the symptoms, our team at Vision Specialists of Michigan can help determine if BVD is the issue.
During your visit:
We ask you to fill out a specialized questionnaire designed to screen for those who might have BVD.
You will be asked to complete a detailed Health History form.
An eye exam is performed to determine the need for correction of nearsightedness, farsightedness, and astigmatism (a common imperfection in the eye's curvature).
A specialized exam is performed (NeuroVisual Evaluation) to determine if visual misalignment is present.
If diagnosed with BVD, you will be fitted with a trial version of your new prescription. Most people notice a significant improvement in their symptoms within just a few minutes of putting on the trial lenses.
You can expect to spend approximately 3 hours in our office during your visit.
Other Symptoms of BVD
There are several symptoms associated with BVD in adults, which typically include the below. Some individuals experience all of these symptoms, while others experience only a few, such as headaches, nausea, and dizziness. These symptoms are also very similar to those associated with vestibular migraines and vertigo.