The doctors at Vision Specialists of Michigan have made pioneering discoveries in the diagnosis and treatment of Binocular Vision Dysfunction (BVD), a condition involving eye misalignment that's not commonly recognized or understood. At the forefront of these developments stands Dr. Debby Feinberg, whose groundbreaking work in the new optometric specialty of NeuroVisual Medicine led to her nomination for the 2018 Theia Awards.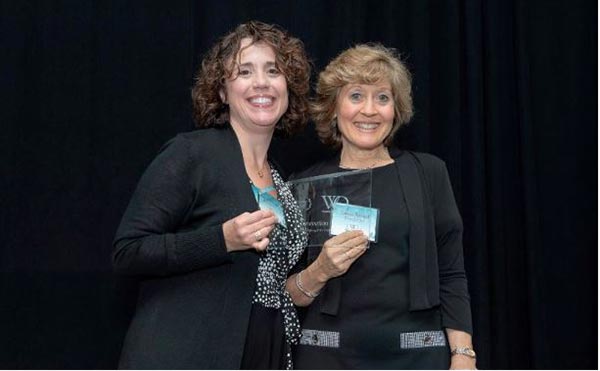 About the Theia Awards
The Theia Awards for Excellence are named after Theia, the Greek goddess of vision or sight. Meant to honor trailblazing female optometrists, annual nominations are made and awards given in each of the following five categories: Innovation, Mentoring, Education, Leadership and Young OD. The final awards decision was made by the Women in Optometry professional advisory board, and awards were presented at a Women in Optometry networking event at the American Academy of Optometry meeting in San Antonio on November 8. It should come as no surprise to anyone who has ever been treated by Dr. Debby that she had the honor of receiving a Theia Award for Excellence in Innovation!
A New Discovery
Dr. Debby's life-changing work in the diagnosis and treatment of BVD began in 1995, when she discovered that the then-current measurements for Vertical Heterophoria (VH), a form of BVD, were not sensitive enough to identify the very slight eye misalignments that lead to a variety of uncomfortable, painful and even disabling symptoms.
As a result, she developed an alternative method that enabled her to pinpoint these small misalignments and treat them using very precise micro-prism lenses. This innovative discovery has changed the lives of thousands of Dr. Debby's patients – to date, more than 10,000 people from all over the world – reducing their symptoms by an average of 80 percent.
Teaching Others
Thinking it wasn't right that this type of specialized care was available only to those with the ability to travel (often very long distances) to see her, Dr. Debby created the NeuroVisual Medicine Institute to train other optometrists and teach them her techniques and methods for the treatment of BVD. Currently, over 20 optometrists from around the globe have benefited from her instruction and have since become NeuroVisual Specialists.
Get Treated by a NeuroVisual Expert
No one has more persistence and passion than Dr. Debby Feinberg. If you have been experiencing symptoms such as dizziness and nausea, you may have VH. To receive cutting-edge treatment that is renowned the world over, contact Vision Specialists of Michigan at (248) 258-9000.